Overview
CDX – dryers for demanding applications
Moisture: an avoidable threat? Compressed air entering the air net is always 100 % saturated with water vapour. When cooling down, this moisture will condense, causing damage to you air system… and to your finished products.
The amount of water is directly proportional to the flow and although an aftercooler will eliminate 2/3 of the moisture, the remaining third can still be very destructive in many applications, such as instrument air, dry powder conveying or processes with rapid air expansion.
Features
Maximum performance for minimum cost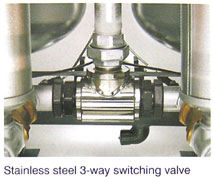 The robust design of CDX ensures that the complete range operates with total reliability, producing the desired pressure dew point even in the most difficult conditions.
Coupled with the most advanced control systems,the CDX range provides the best quality air for the lowest possible cost.
Atlas Copco's dew point dependent purge control significantly reduces energy costs while ensuring a totally stable and reliable dew point.Using the unique microprocessor based in combination with a top class PDP sensor, a payback period of less than 6 months is not uncommon.
CDX totally eliminates moisture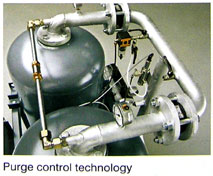 Atlas copco CDX adsorption dryers eliminate the moisture before it can cause any damage.
Even the possibility of freezing is non-existent.The CDX dryers ensure a reliable process and impeccable end products by offering absolutely dry air to your compressed air system, with a pressure dew point of -40oC or even-70oC.
Specification

Reference Conditions: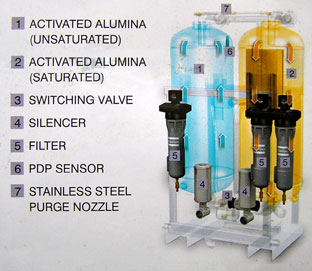 Compressor air inlet temperature: 35oC/100oF
Inlet relative humidity: 100%
Dryer inlet pressure for 11 bar variants, after inlet filtration: 7 bar(g)/102 psi(g)
Dryer inlet pressure for 16 bar variants, after inlet filtration: 12.5 bar(g)/181 psi(g)
Benefits
CDX120 – 1050- High performance for critical application

Pneumatically operated switching valves
Silencers with integrated Safety valves
Robust frame with fork lift slots and lifting eyes