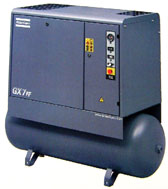 Overview
Atlas Copco compressors based on rotary screw technology have always set the benchmarks of reliability, economy and performance in the industry.
Altas copco's Little Master brings these benefits of screw technology to the small industry who has had to settle for the inefficient and noisy piston compressor.
Minimum components, total integration of refrigerant dryer, compressed air filters and air tank ensure a compact design. Advanced sound dampening ensures silent power. Reliability of screw technology make the Little Master suitable for 100% continuous duty operations. All these combine to make it the perfect compressed air solution for the laboratories, workshops, light industry and small compressed air requirements of medium and heavy industry.
Features and Benefits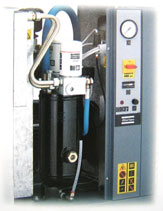 Service points are grouped together and accessible through the removable front panel.
Spin-on oil seperator and filter for quick maintenance.
Continuous oil level display.
Longer service internals.
Easy access through front door
The service friendly design and availability of standard service kits make maintenance very easy and cost effective. This comes with the grantee of 24 hr, service backup ensuring almost 100% equipment uptime.
More air for less power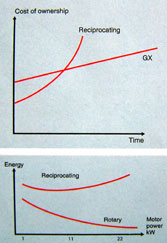 High efficient rotary screw compressor element and electric motor.
25% power saving potential over conventional compressors.
To save energy, the compressor automatically shuts down when no compressed air is needed. Combined with the Atlas Copco patented screw element (SAP) and a high efficient motor, the G offers extremely low energy consumption and high air delivert during the entire compressor lifetime. Saving energy helps save our environment.
Completely compressed Air installation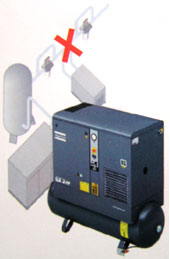 The GX 2-11 is delivered with all of the components required for a complete installation.
Requires about 40% less area than the conventional compressors.
The package has been designed to be as compact as possible.
The compressor is receiver mounted and pre-piped.
All Air connections have been optimized to minimize pressure drop which reduces the potential for air leaks.
Complete compressed air system in minimal space – tremendous savings in opportunity costs.
Simple & high reliability

Rugged screw compressor technology allows for 100% continuous duty cycle.
Directly driven cooling fan for increased dependability.
All oil lines are rigid pipe or high temperature hose. No plastic oil tubing is used.
All electrical wiring is done with heady-duty cable and high quality connectors.
The basic package includes the main switch with integrated circuit breaker to protect the compressor.
Low operating temperature ensures long life and eliminates the need for an after-cooler.
Clean and dry air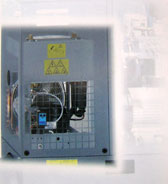 Saves on operational costs by protecting downstream equipment and end products.
Protects the environment. Moisture, dirt and aerosols in compressed air can damage tools and contaminate end products. All downstream equipment required to clean and dry the air is integrated within the GX.
3-stage oil separation system with a residual oil carry-over of less than 3mg/m cube.
After-cooler separating 70% of water in compressed air.
High performance, environment-friendly refrigerant dryer to dry the compressed air.
General purpose or high efficiency compressed air filter kit to further clean the compressed air.
Oil temperature controlled by thermostatic valve.
Quality Air – no more quality rejects, no more loss of productivity.
Silent power
The GX 2-11 is supplied with a full sound enclosure, which significantly reduces the sound.
Rotary screw technology minimizes vibration.
Shaft mounted low noise fan for silent operation.
With low noise levels, the GX can be installed anywhere.